Welcome Spring with 5 ways to "Go Green"
Plant a Garden
Whether it's flowers or food the benefits of growing a garden go beyond your own home. Many insects and bees find food and homes within gardens. Remember to keep your garden green by opting for earth friendly pesticide and weed control alternatives.
Use your own Water Bottle
This is a no brainer, but our culture is still using and sending to the landfills millions of plastic cups and water bottles. Do your part and bring your own coffee tumbler and water bottle. You can say no to restaurant straws too! Stainless steel alternatives are available and easy to clean.
Bring your own Bags
Here in California we are encouraged to bring our own bags to the grocery store, yet other retail stores are still handing out plastic bags that often go straight to the trash when we get home. Say no to the bag, whether it's complimentary or costs 10 cents shouldn't matter as they both go to waste.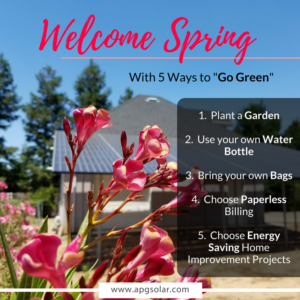 Choose Paperless Billing
You probably don't need all that paper coming to you in the mail. Take 30 minutes and get online, go to your billing sites and opt out of paper mail. They will still come to you in email to download if you need to read it.
Choose Energy Saving Home Improvement Projects
There are more options than just getting solar for you to participate in earth friendly home improvement projects. The whole house fan is a great example: it is inexpensive, easy to schedule an installation, and not only improves your electricity bill but can also improve the air quality in your home! There are also many benefits to installing domestic hot water or a tankless water heater. If you have a pool, one of the easiest ways to spend energy and money is by not installing a variable-speed water pump.
If you live in California, contact us to schedule a consultation on your home's energy efficiency and we will give you a free recommendation on money saving and earth friendly home improvements.